When it comes to Palaces, Hampton Court Palace is a cut above the rest, and we're lucky to have it right on our doorstep. When it comes to food, the trend continues. With our local street corners and banks of the Thames dotted with top-notch eateries we are truly spoiled for choice. Craven House has a lot to offer the discerning foodie. Below are five of our favourite restaurants near Hampton Court:
The Mitre (Whispering Angel Bar)
Where to start with this gem? Boasting not one, but two restaurants and The Whispering Angel bar, the Mitre Hotel is a treat for the taste buds. Indulge in some Atlantic lobster or Hampshire rib eye steak at 1665, the riverside brasserie, or sip a sweet rosé at the Coppernose café and wine bar. And if afternoon teas' what you're after then The Mitre does that too.
Famed for its delicious steak tartare and moules frites, this French and European restaurant is a favourite amongst locals. Mixing traditional and innovative dishes, you're spoiled for choice. It's also tres romantic, so just the spot for a classy date on your weekend escape.
Home to menus bursting with the finest and freshest local ingredients, The Six is ideally located in the Kings Arms Hotel, right between Hampton Court and Bushy Park. You won't have to wander far for roasts and toasts if you've been mooching about Henry VIII's pad all day.
Fancy delicious Lebanese food? Look no further than Mezzet, a local favourite, where you'll find Lebanese mezza to satiate any craving. This family run restaurant has a large variety of appetisers and substantial mains from skewered meats to delicious tajine.
Arguably the best Italian in the area, you won't be disappointing if you can wangle a table by the window to enjoy the views over Bushy Park.
…and village cafés perfect for snacks and afternoon teas
At risk of going on and on about our foodie spots we can't let the chance of mentioning Dish or Mada Deli – known for their brunches and cakes, The Coppernose – the perfect spot for a casual lunch and Canela Café – great for breakfast or brunch before a day at the Palace or a long walk along the Thames. Think great coffee, generous portions, and a varied menu with a little Latino flair.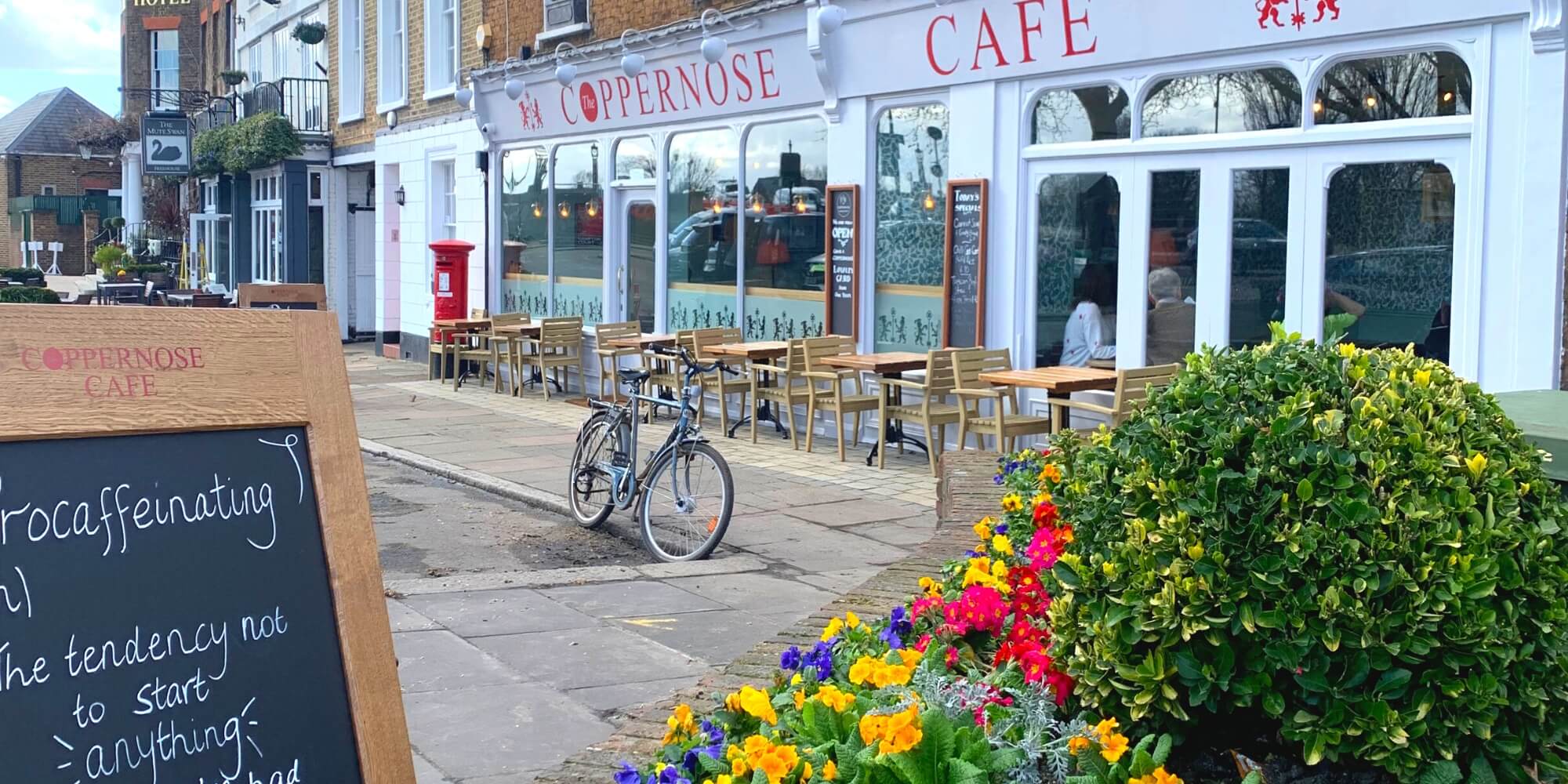 Heading to Hampton Court Palace?
If you're heading to our corner of London be sure to pay a visit to one of our favourite spots. But if you just don't fancy trekking out and about, here are some recommendations for our favourite takeout or delivery. And if you need somewhere to stay, our luxury serviced apartments are waiting to welcome you.
Our luxury serviced apartments in Hampton Court and Claygate: