It's no small secret that Bridgerton has taken the world by storm, amassing a huge following and breaking records left, right and centre. With season three filming already underway we thought we would take you for a little trip to the land of Bridgerton – which just so happens to be right down the road from us.
A visit to Queen Charlotte's Palace
Otherwise known as Hampton Court Palace. That's right, our historic neighbour plays host to the cast of Bridgerton on a number of occasions, posing as St James' Palace, home to Queen Charlotte.
Filming took place across the palace grounds, and the good news is it's all accessible to the public. From the Fountain Court, where Queen Charlotte takes afternoon tea, and the Privy Garden which is the location of the exterior shots from Anthony and Edwina's wedding to the Master Carpenter's Court which was transformed into London's Chancery Lane (home to the Chancery Lane Printers) and the King's Staircase, the palace is a key player in the world of Bridgerton. The gardens are also featured in different guises across both seasons.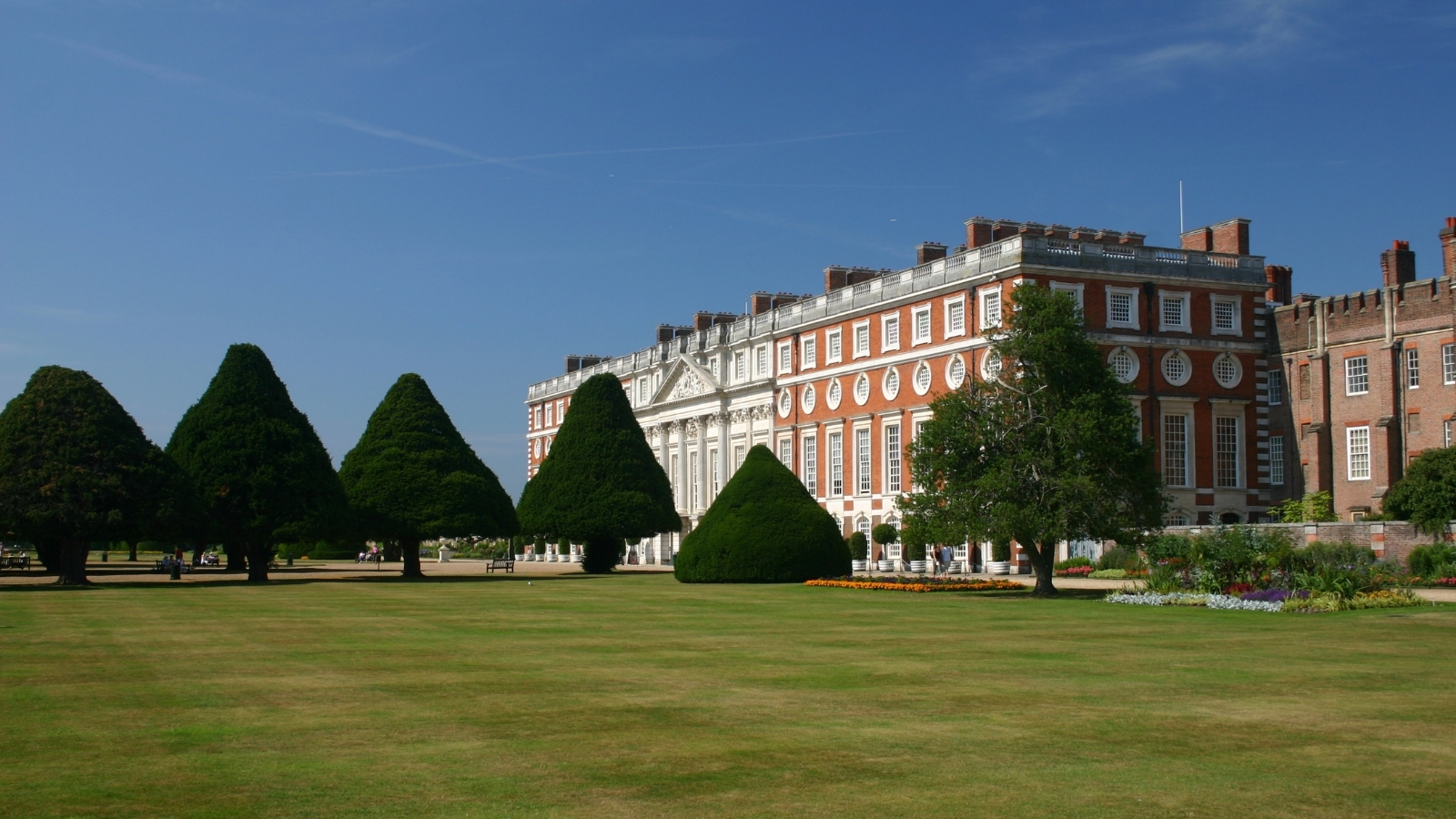 How to get there
Hampton Court is a three minute walk from Craven House making us a really great choice for a Bridgerton inspired stay. Don't forget to book your tickets in advance!
Promenade like a Bridgerton
Painshill Park is a truly spectacular 18th century garden, complete with follies, iconic bridges, beautiful views, a working water wheel and picturesque lake. Spotted in many of the promenading, boating and park scenes in Bridgerton it is top of our list for a Bridgerton-inspired day out. There are some delightful walks winding through the landscaped park and picnic-perfect spots for a spread of afternoon tea.
How to get there
Painshill is only a 20 minute drive from Craven House in the pretty village of Cobham. There's parking and a cafe on site. Please note that Painshill is not a National Trust property and you will need to buy tickets in advance.
The wide open spaces of Windsor Great Park
Many of the horse riding scenes, including Anthony and Kate's 'great gallop escapade' and the location of Kate's fateful accident are filmed in Windsor Great Park. You can even go for a hack through the park yourself with the various riding schools offering the opportunity.
How to get there
A quick and easy 40 minute drive from Craven House, Windsor Great Park is a personal favourite of ours. It's also very close to Virginia Water Lake, which although not featured in Bridgerton, is a top-class choice for an afternoon promenade.
The London of the Ton
Once you've fully immersed yourself in all Surrey has to offer the Bridgerton aficionado, hop on a train to London and explore the city film locations.
Bridgerton House
Home to the illustrious Bridgerton Family, Bridgerton House is actually The Ranger's House in Greenwich. It houses The Wernher Collection which comprises over 700 pieces of art, sculptures, enamel pieces and jewellery.
Whilst you're in the area, take a wander through the park towards the river and the Old Royal Naval College – the location for many of the outdoor London shots throughout season one and two.
The wedding that never was (spoiler alert!)
Anthony and Edwina's near-miss wedding ceremony was staged in St James Church, Piccadilly, right in the heart of London.
Lady Danbury's Ball
The magnificent Great Conservatory at Syon Park plays host to Lady Danbury's ball in season two. This spectacular house still belongs to the original family and members of the public can visit the gardens and conservatory from Wednesday to Sunday every week.
As you can see, Craven House is ideally located for a Bridgerton break. If we can help with any of your planning, ticket booking or answer any questions please don't hesitate to get in touch.
I look forward to welcoming you to our own little corner of the Bridgerton world.
Best wishes,

PS Here's a little extra for you: a Bridgerton-inspired soundtrack for your holiday.